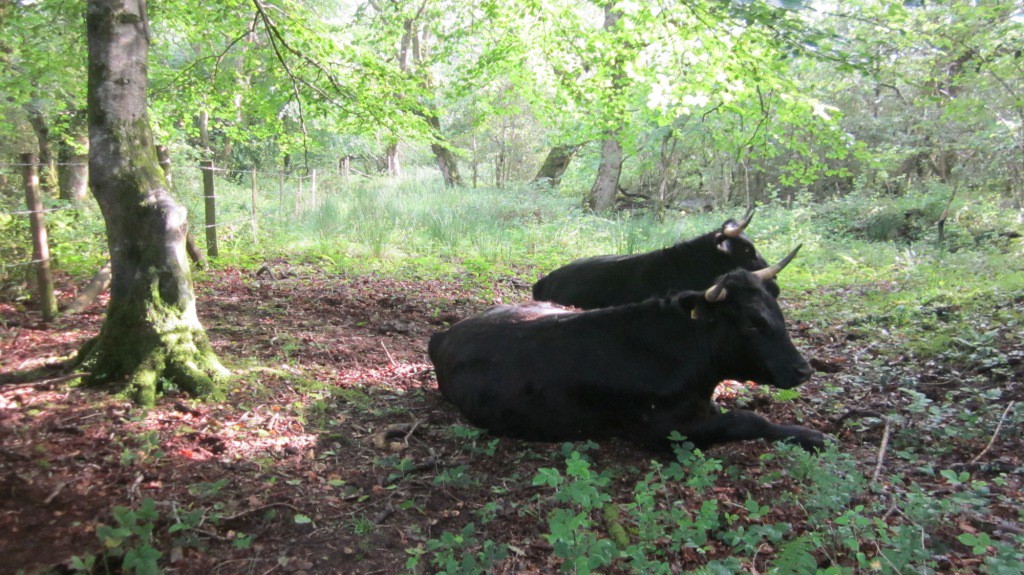 Our small herd of Hereford and Welsh Black cattle are integral to the good ecological management of the farm. This land was farmed traditionally with beef suckler cows for many years before us and the wildflower meadows and marshy areas thrive under their grazing.
The amazing range of plants here is reflected in the cattle's diet. They feast on the rich meadow herbs, browse on woodland leaves and summer graze on the moor-grass tussocks in the wetlands. This isn't just grass-fed; it's nature-fed.
As a result, the beef we produce is lean, beautifully textured and full-flavoured. Unlike intensively-farmed beef (or perhaps even 'grass-fed' beef, which could come from an intensive rye-grass system and still only get 51% grass), it's good for the environment and good for you. If you'd like to try it then get in touch. We generally finish one or two steers each year, and need at least a dozen customers lined up before ringing the butcher. We often have some frozen supplies through the year if you miss the fresh stuff. The beef doesn't make us much money, but we're keen to keep the traditional grazing going and contribute some quality food to the good people of west Wales!
15kg beef box                                                           £170 (delivery free within Pembrokeshire)
(containing a variety of cuts- various steaks,                                   or
mince, stewing beef, topside roast etc.)                                £90 for a half box