Spring 2021
We've got a few miscellaneous things for sale at the moment:
Small bale hay, from our best wildflower meadow, well made in mid-September during some unexpectedly good late season weather
A topper, to suit a small tractor (came with an old Massey TE20)
A land-rover Discovery TD5, registered in 2000. Mileage 211k. New rear chassis a year ago. It's been a good workhorse for us.
A cart – a proper old horse-drawn wooden one
Might get round to posting some photos soon, but if you're in Pembrokeshire or west Wales do email or give us a call for more details or prices.
2020
Living where we do has meant that, fortunately for us, little changed during the year unlike for many others. Life here continues regardless of what's going on in the wider world; animals still need feeding, bees still buzz and plants still ripen and bloom meaning that although we lost some contracts, there was plenty to carry on with and honey and seed harvests still came in. The drought in May did seem to have an impact on seed yields, with yellow rattle in particular being hit, resulting in rather stunted plants and smaller seeds – another effect of climate change?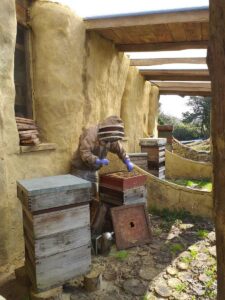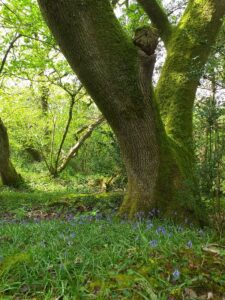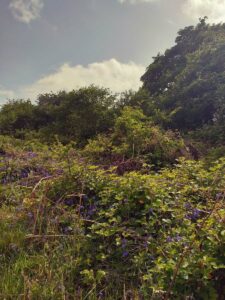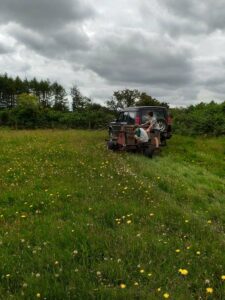 Having a (slightly) slower pace to the year has given us the space to think that after being hard at it for over a decade perhaps it's time to ease off a little and give ourselves and some of our harvest sites a rest in 2021. We're still planning on having meadow seed available but it'd be worth getting in touch sooner rather than later…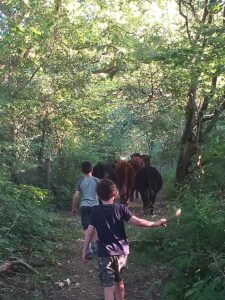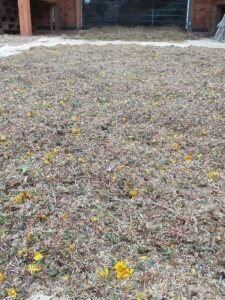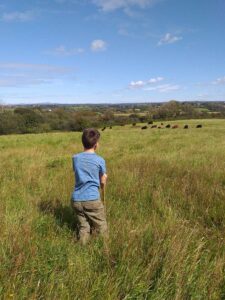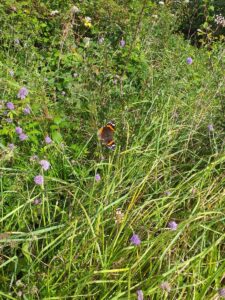 Winter 2019/20
There's many an interesting debate going on at the moment about rewilding, and eating less meat to save the planet. I'm generally in agreement with the sentiments expressed by proponents of both causes. The one problem that I have is that the arguments don't sit well with this place and our stewardship of it. It's a nuanced argument, but our farm isn't like, say, the Knepp Castle Estate where rewilding has transformed intensively managed fields into a developing wildlife haven. These fields haven't seen fertiliser or the plough, so already have a full complement of wildflowers and insects. The edges are already scrubby and full of birds. Oaks already plant themselves into thickets of blackthorn, and we leave them to grow on. Ok, we maybe dictate the grazing regime more closely than they do at Knepp, but that's so we can have hay-meadows and harvest some seed. Our grazing herd is tiny – less than twelve beef cattle – because that's all the land can comfortably support without inputs. They don't make us any money, but they're keeping the marshes as marshes and the meadows as meadows. Over a third of the farm is wild woodland or scrub, so we're catering for plenty of woodland creatures and storing carbon. If we followed the meat-free approach it'd all be woodland within a couple of decades, or ancient species-rich meadows would be turned into vegetable monocultures. Potatoes don't eat hay and carrots don't graze moor-grass tussocks. So a huge range of species would go extinct here. Populations of woodland species would go up, but I doubt the diversity would alter significantly, as we're already catering for things that like wet woodland, hazel scrub, veteran oak trees etc. So, we'll keep with the Welsh black cattle in the face of Veganuary and all the valid questions being asked, and sacrifice one or two each year for the sake of the wild creatures that depend on their grazing.  Next up is a pedigree heifer called Llyn, so if you fancy some quality meat in March, get in quickly….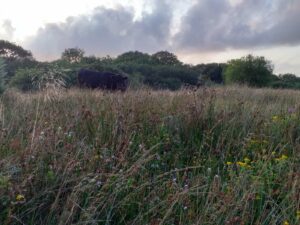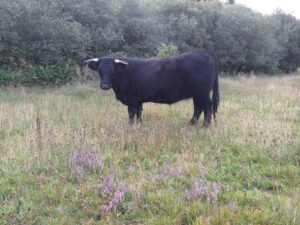 Late Summer 2019
The seed harvests are now coming in, the barns are full, and we're flat out on this and everything else. If you're on our provisional order list, we'll be in touch soon to check that you still want seed. If you've not yet been in touch, we should have enough seed to spare, but don't leave it too long!
For the past couple of years we've worked with The People's Orchard St Dogmaels and put on meadow workshops, both here on the farm as well as at other meadows including some of our harvest sites and meadows we've been involved with creating or restoring. These days are always really enjoyable, being out in the meadows and meeting other interested folk resulting in passionate discussions about all manner of subjects relating to conservation, land management, living as part of nature… On a scorching June day we welcomed people to our place to enjoy the orchid-rich meadows, before heading to Mountain Meadows SSSI, chosen as the 'Coronation Meadow' for Pembrokeshire for its diverse array of wildflowers including butterfly orchids. The day finished off with a stop at a relatively recent restoration project near Llandisillio that's developed so well that we're now able to harvest seed from here.
July saw us venturing to north Pembrokeshire for a day on managing meadows and wetlands. First stop was the wonderful Ruskin Mill Trust farm at Plasdwbl, where we looked at the old hay meadows as well as the specialist education facility with its Biodynamic vegetable growing and workshops. After a visit to Gors Fawr stone circle across the way to ruminate on the positioning of the stones we finished off the day at Blaencleddau, where we harvest the meadows for seed and the wetland fields form part of a Special Area of Conservation. You can't help but feel positive after these days, knowing there are so many people in the local area and beyond who are keen to do their bit for conservation.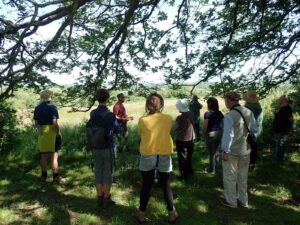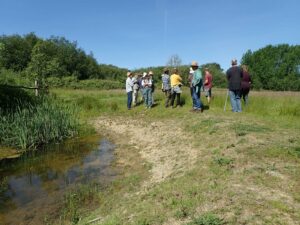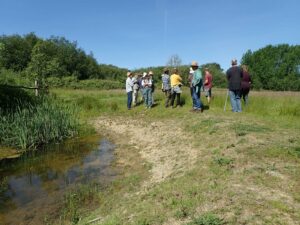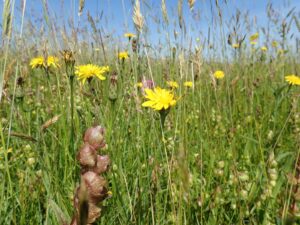 Early Summer 2019
We've checked in on a few local meadow restoration projects which we've supplied seed to in the last few years. It's heartening to see that, with good aftercare, these new meadows can start to resemble 'proper' meadows quicker than I would have perhaps expected. First year projects are usually characterised by an abundance of yellow rattle and eyebright, and it's these two species which drive the later colonisations by parasitizing the grasses. Ox-eye daisy, cat's ear and greater bird's-foot trefoil are often showing in the first year, but it seems to take another year for some perennials like knapweed to reach flowering stage.
We've been delighted to see orchids appearing in some new meadows after four or five years – greater butterfly orchids at the Welsh Wildlife Centre meadows near Cardigan, sown with seed from the orchid-rich Mountain Meadows; southern marsh orchids in the new Plantlife 'Coronation Meadow' in south Ceredigion; and common spotted orchid in the meadow in our own garden. The hot weather last year may have helped, with grass growth being severely checked in many places. We've had a very dry spring here in Pembrokeshire, but the meadows are now growing fast after recent heavy rain. Seed harvesting will soon be on us again; do get in touch sooner rather than later if you'd like seed as the order book is already quite long.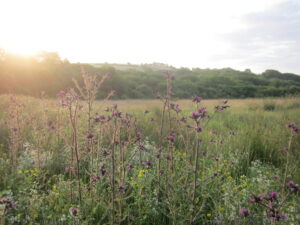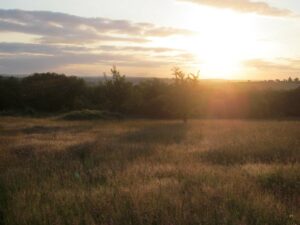 Every year we enjoy welcoming new life onto the farm, both wild and domesticated. Calving with our small herd of cattle is normally a relatively stress-free period, with little assistance generally required. However, this year on a blazing hot day in late May it was somewhat different. A breech presentation, and a large calf at that meant we ended up assisting with our first caesarean under the late-afternoon sun. Even the boys joined in playing attentive nurse to the newborn calf while we busily aided the vet in stitching up mum. Thankfully all turned out well, with Ivy taking it in her stride and Thorn (after the beautifully flowering hawthorn in May) feeding strongly from the start and he's not looked back since. We all slept well that night…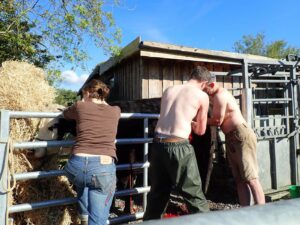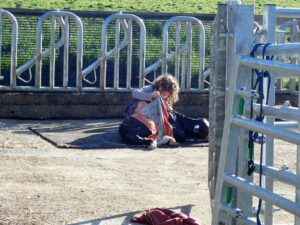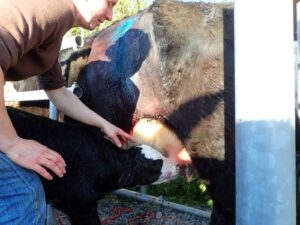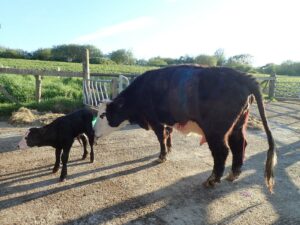 Winter 2019
We've designed and implemented a couple of new woodland and forest garden projects recently. It's proven to be an unexpectedly difficult task to locally source trees and shrubs which aren't grown in a peat-based compost. This isn't just about wetland conservation, it's also about runaway climate change – digging up carbon-storing peat bogs to plant carbon-storing trees isn't clever. Both local and national suppliers who purport to be environmentally-friendly businesses (perhaps most disappointingly the Woodland Trust) still seemed wedded to peat despite valid alternatives. Congratulations then to Dolau-hirion Nursery, Llandeilo for their almost exclusive use of bark-based compost from Melcourt for their fruit trees. If anyone can point us to a peat-free native tree nursery in west Wales, that would be a help for future projects.
In an ideal world, we would allow trees to plant themselves far more often. The natural development of scrub from unmanaged grassland is a fairly rapid process, and those 'untidy' brambles and blackthorn suckers often act as protection for saplings of hazel and oak which will ultimately form a natural woodland. Some of our own woodlands were open fields fifty years ago, and the fact that they're developing with their own wild character makes them all the more ecologically-rich and interesting. If you're planning a meadow creation project for the year ahead, do give some serious consideration to the value of scrub, and either retain or encourage a good tangle of brambles, wild rose and thorn. You may not be able to walk through it, but you'll be rewarded with nesting warblers, pollinating insects and a crop of blackberries. And if you keep bees, you'll find that it's maybe these shrubs that are of most value to your hive – providing much more pollen and nectar through the year than the 'tidy' meadow.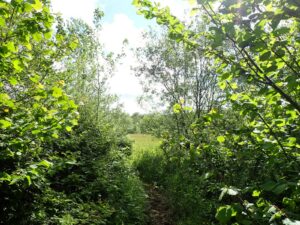 Summer 2018
As July ends and takes the drought with it, we've got a good amount of seed in the barn again. Although some of our usual harvest sites were mown too early for us to harvest ripe seed, we managed to get good quantities from elsewhere. If you're on our provisional order list, we'll be in touch very soon. If you're not, do ring or email as we should have enough seed to help with your project.
Our own meadows were baked pretty hard, and with the hot, dry weather stopping any growth for over a month, we've already been feeding hay to the cows.  On the plus side, we've got more honey than ever before as the bees filled box after box (10 supers on the best hive). If you're in west Wales, do help us out by buying a few jars!
Winter 2018
As the days slowly start to pull out, and a few mild days get the dawn chorus started once again we often get interest in our seed as people get back in a gardening frame-of-mind. Spring-sowing is advised for one of those colourful mixtures of annual plants popularised by the London Olympic Park 'meadows'. We sell 'real meadow' seed though, which mostly comprises perennial plants (that don't need regular re-sowing). Our seed is definitely best sown in late summer or autumn (which is of course when the seed is shed naturally in a hay meadow). We were lucky enough to sell out of all last years seed before Christmas, so won't be able to supply again until August. Please do get in touch with any provisional orders, as we look set to be busy again.
Building work ground to a halt with last summers business, but the new barn is nearing completion and looking very grand in its own idiosyncratic way. Lesser horseshoe bats and barn owls have already found it, and the green roof has taken well from a variety of substrates and sods, minimal planting and minimal attention. Nature's pretty good at working out the best way to vegetate a green roof if you're prepared to experiment and be patient…
Autumn 2017
As has been the usual pattern in our part of the world for the last few years, August proved to be something of a monsoon season and the fickle business of harvesting seed, honey and hay had to contend with regular heavy showers. At least the rain held off the hay harvests at our regular harvest sites until the seed was well ripened, and we managed to snatch just about enough seed in drier interludes to meet the advance orders.
Summer 2017
We're now involved in green roofing projects from Pembrokeshire to St Kilda (and nowhere inbetween…..). The bees are working the English stonecrop on our own nearly finished barn roof, and a new build near Fishguard has a covering of our growing medium planted with both English and biting stonecrop, alongside thrift, sheep's bit, kidney vetch and a host of other Pembrokeshire coastal plants that should cope with the exposed conditions that they'll be subject to. Matt's been up to St Kilda to assess options for the green roof to cover a new building there. The former inhabitants traditionally turfed all of their houses and storehouse ('cleits'), as well as using dried sods as fuel. They didn't have modern equipment like the turf-cutting bucket that we used on a recent translocation project, but they also didn't have archaeological and ecological constraints to be mindful of. This new roof is set to be an interesting challenge!
Spring 2017
We got schmoozed by the BBC last year, and the resultant feature with Kate Humble has already generated interest in our seed from as far afield as Germany. Our wilfully non-commercial attitude seemed to come across OK, but among the many bits that got left on the cutting room floor was my plug for Flora Locale. I suggested that potential customers outside of Wales should look for a supplier of direct-harvested meadow seed in their own region. We're conservation-minded before business-minded, and keen to see wild meadows retain their own local distinctiveness wherever possible. Plantlife have put together a good explanation for this approach at http://www.plantlife.org.uk/uk/our-work/campaigning-change/keeping-wild-wildflower. With this in mind, if you're after seed for a garden then we'll happily sell our 250g seed bags when we have them back in stock in late summer. If you're a rural landowner with a larger meadow, then it might be better for you to visit www.floralocale.org and choose a local supplier of direct-harvested seed from their recommended supplier page (we're not actually on there – we're too tight to pay the fee!).
We've got Charlie and Meyrick from MC-Rustics helping us to build another seed-drying and beekeeping storage barn – turf roofed (of course) and with space for beehives built into the south-facing straw-bale wall (to be plastered with dung from our cows and clay from a new pond). Can't wait to see it finished.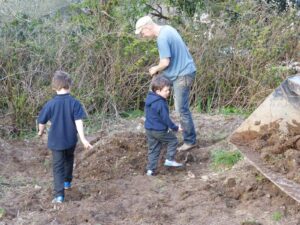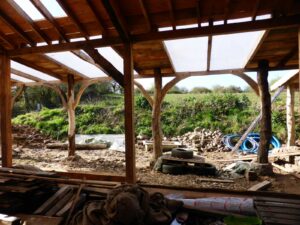 Autumn 2016
After a somewhat fickle season, our harvests are more or less in now. We have meadow wild-flower seed for sale from several west-Wales sites. Don't delay if you're interested – now is the ideal time to be sowing. We'll soon have bluebell and wild garlic bulbs available for planting in those shady corners where meadow seed wouldn't be so successful. There's some good honey coming off the hives as well. We noted bees foraging on at least 60 different plants this year, which helps to account for the depth of flavour.
Summer 2016
We're harvesting wildflower meadow seed once again, and we'll soon have Welsh meadow seed mixtures for sale. We're adding some new collection sites this year – check out the wildflower meadow seed page for details. We're also working for Plantlife, taking forward their Coronation Meadows restoration projects in Ceredigion and Glamorgan. In the meantime, the honey is starting to come off the hives, and there's some fine spring hawthorn honey available if you're quick.
The Mystery of the Swarm

Old-school beekeeping books often like to draw parallels between bee and human societies. Well, with our bees throwing out numerous swarms around the time of the referendum result, I thought a couple of passages from that reliable observer of bee politics, Tickner Edwardes, in order.
"The old green hive is keeping up to its reputation. Already it is the centre of a whirling crowd of bees, and, as you look, a dense black stream of them is pouring out of the entrance so fast and furiously that it is impossible to distinguish what they are. And the old wild trek-song is growing louder and deeper with every moment, a rich vibrant tenor note unlike any other sound in nature. There is no doubt at all of its import, as you stand in the wing-darkened sunshine, caught up in the excitement of it all, and feeling much as if you were facing a tearing sou'-west gale……
…..Gently swaying in the sunlight, lifeless and inert but for a few restless bees that hum about it, the sight of a settled swarm has an almost uncanny effect on most observers. A little before, the whole garden was filled with its deafening, joyous hubbub; now a strange silence has fallen, and it is impossible to dissociate from its present state the idea of an abject depression and disillusionment, as though the whole thing had been but a mad escapade. If we may conceive the issue of a swarm to be a freak of ancestral memory, the sudden irresistible impulse to follow an old racial habit, long obsolete, it is not difficult to account for the obvious change of mind that has now come over the absconding host. Packed within the hive in a feverish, surging multitude, disabilities were not self-evident as they are now, tried in the light of day.
Violent delights have violent ends / And in their triumph, die"
Boris and co, take note……
Winter 2015
With storm after storm sweeping across, it's been a good winter for inside jobs. Long-promised domestic improvements are finally made, and ecological survey contracts for NRW and Pembrokeshire Coast National Park Authority are written up. With few fungi in our woods this season, Matt becomes a moss geek instead, and establishes the farm as the richest place in the county for these subtle plants. We're about to double the size of our beekeeping enterprise, with new hives and out-apiaries planned. If we get good August weather, we'll be taking hives to the heather so should have some fine heathland honey this time next year. Still a few jars of our fine harvest from the summer available, as well as a small amount of meadow seed and a couple of boxes of beef.
Summer 2015
Well, we managed a few days of play but high summer is now upon us and we're gearing up for all the harvesting jobs. We just need the weather to hold now…..
We've been installing a new green roof for the RNLI / BAM Nuttall at St Justinians, using native coastal plants from Pembrokeshire.
Welsh Black beef now available again, see under our 'products' tab for full details. Honey harvest coming very soon – we're just waiting for the knapweed flow to come to an end, as that's a key part of the special flavour.
Spring 2015
The dry, sunny April was a great help. The bees enjoyed a good flow on blossoms like blackthorn which would perhaps normally succumb to wind and rain within a few days. The early surplus which they've put away (one hive has filled four supers) will be left on to see them through the cool, wet summer days which will no doubt follow.
We're taking seed orders now, and it looks like being a busy summer picking yellow rattle and wetland seed. We've got some work lined up with Plantlife on their Coronation Meadows Project too. Matt attended a meeting of meadow restoration practitioners recently, which will hopefully result in some 'best practice' guidance being published by Plantlife in due course.
Winter 2014
Ecological consultancy work for National Trust, Natural Resources Wales and The Freshwater Habitats Trust is keeping us busy. The maintenance jobs on the farm, such as replacing rotten softwood posts with cleft oak stakes from Heinz Cooper in Carmarthenshire, are having to fit in around these contracts and the rest of the workload. Matt's still found some time to disappear into the woods in search of fungi, and some of the more interesting finds are described on the Fungi page. There will be some beef available in the second week of January – if anyone's interested there are still currently a couple of boxes going spare.
Summer 2014
With August now upon us, we're busy collecting and selling wildflower seed from our meadows. We've harvested a good amount from Blaencleddau in north Pembrokeshire too, and are about to collect from the orchid rich meadows at the National Botanic Gardens NNR and Mountain Meadows SSSI. We've also just harvested seed from HRH Prince Charles' Carmarthenshire estate, for use on his own meadow creation projects. Don't delay if you're starting a wildflower meadow – the seed needs to get into the ground as soon as possible now, to mimic the natural cycles of the hay meadow. We're yet to cut hay – it's been tempting with the hot, dry weather but we've held on for the seed, and for the profusion of knapweed and betony which is keeping the honey flowing into the hives. There will be a good surplus for sale this year.
The ecological consultancy has completed numerous Phase I surveys, and some land management advisory jobs. That hasn't left as much time for the continued investigations into the wildlife on the farm, but the plant list has just hit 360 with the addition of several locally rare plants. Hopefully the workload will ease in a month or two, and we can spend a bit more time in the woods……
Spring 2014
This year looks like it could be another good one for our bees. With five strong new hives and three early swarms working hard at the hawthorn blossom, we're looking forward to some fine honey again by the end of summer.
The meadows are exploding to life with marsh orchids and as much yellow rattle as ever. We'll be harvesting these for wildflower meadow seed to sell again, and we'll also be taking our brush harvester to various other species-rich meadows in south and west Wales. If you're creating a wildflower meadow in Wales and you'd like seed of native meadow plants, do please get in touch. Now's the time to start plans and preparations, and we're always happy to give advice.
Our own somewhat idiosyncratic living and office space is currently getting a new green roof. We're sorting through a pile of building stone and rubble left from the previous homestead, and the lime-rich soil, mortar and the occasional tuft of ivy-leaved toadflax is being spread out over the slab-wood / liner / carpet sandwich. It'll be interesting to see what other plants get a toe-hold here in time.
Autumn 2013
We had a busy summer harvesting meadow seed from our Pembrokeshire sites, and also undertaking contract harvesting jobs on a metal mine in north Ceredigion and Prince Charles's farm near Myddfai.
We have a few kilos of meadow seed still available but time's now running out to get this in the ground. Contact us as soon as possible if you'd like some.
The honey crop was superb this year and there are jars for sale.